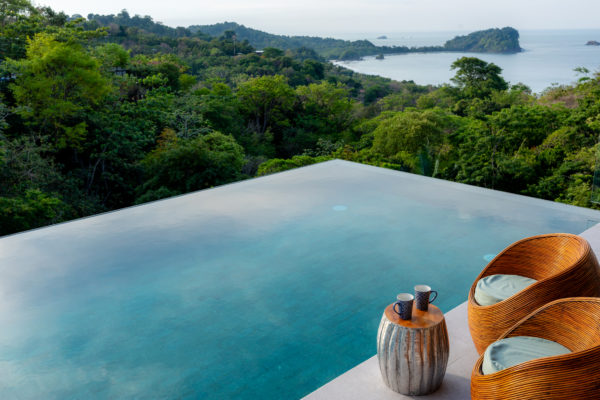 The beautifully modern interior designed Villa Bella Vista is located in the heart of gorgeous Manuel Antonio in the Puntarenas province. It was designed and built to take advantage of its privileged location. With its breathtaking views and modern interior architecture design, this house truly makes you feel like you are living in paradise.
The architecture of this 5-story, 9-bedroom villa is very clean and modern. I had the opportunity to work on the interior design along with the owners. They were very easy to work with, tons of fun, and we made a splendid work team.
Come along with me and check out how it turned out!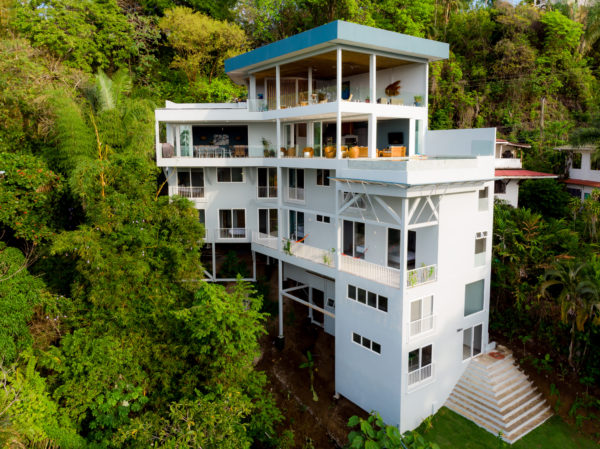 Architectural Features
I'm going to start with the villa's most impressive architectural feature. Way up on the 4th level, there is a delightful "floating" infinity pool. As you might guess, it offers an outstanding ocean view that will make you just want to hang out by the pool all day to enjoy it.
Of course, you don't have to go too far into the house to see some pretty amazing stuff. The main entrance is quite outstanding in its own right and I was honored to have a hand in its creation. Various warm natural textures, like wood and cane, expertly contrast with the cold, exposed concrete on the wall. Potted plants also play a very important role in this scene, adding some organic and soft shapes to complete the look.
The Kitchen and Dining Areas
The kitchen located on the fourth level and the bar area on the top level were both designed with very straight clean lines that play along with the symphony of the villa's architecture. Again, we added some warm and organic textures to the spaces, to perfectly balance the simplicity of the modern interior design.
An inside dining area merges with an outside one when the glass doors are pulled to one side of the room. This makes the entire space feel big and open and you almost feel like you're right on the beach. It's even better though because you have the full view of the ocean and can enjoy the soft sea breeze that comes off the water.
The Color Scheme
We chose light grays for the walls in this house. You can appreciate the look in these dining room photos. It helps make the space feel bigger and lighter, and makes you feel like you're in the clouds.
This is a very good example of how I used color psychology to enhance the spaces and reinforce the intention of modern interior design and architecture throughout the house. Light tones of cold colors used in warm climates always give a soothing effect, inevitably leaving you feeling relaxed and cool.
The Furniture
Furniture design is always a very fun part of my job. I really enjoy picking finishes, fabrics, colors, and textures that will work together in a space. It's like putting together a puzzle that I have already made in my head. When it becomes real and works so nicely like in this lounge area, it all makes sense and my feeling of satisfaction is immense.
In this case, I designed the furniture and the owners of the villa sourced it with a local furniture shop who had this spectacular teak sofa made in Bali. The fabric is Sunbrella, which they brought from the US. The coffee table is also from Bali and it adds so much fun to the space with its organic shapes, I just love it!
The outdoor furniture was sourced with Aurea Designs. These brilliant powder-coated aluminum sun loungers couldn't be any more perfect for this wood deck.
Putting it All Together
Also, it important to note, how we reinforce a style with every piece of furniture we pick for a house. In this case, all the outdoor furniture is very modern and sleek, and the finishes were carefully chosen to go along with the house. We left nothing to chance, everything was well thought out and I believe the results show all the work and love we put into the design.
Finally, it is important to note how careful we must be when using color and textures. Everything has to be very well balanced in order for a space to not only look, but also be, comfortable.
Comfort is not simply a matter of spending a lot of money on super high-end things. Its more a matter of carefully creating a very subtle balance between architecture and interior design, and between color and texture. And also creating everything with love.
Excited by what you've seen here? Check out more of my favorite interior designs!https://aurea-designs.com/projects/tv-room-make-over/