In this Master Bedroom Interior Design Renovation, the main request from my client was to bring some life, color, and texture to their bedroom. They felt the room was too flat and lacked some energy and character.
Check out how the room used to look in these two photos. The walls were plain white, the space lacked dimension and scale, and there were no main features other than a piece of art floating on one wall.
The Transformation
I started by adding some color to the walls. I chose a light beige on most of the walls to make the room feel warm and cozy and a deep green accent wall to add some depth and dimension to the space.
The client also requested a lounge area in the bedroom. He is an avid reader and wanted a comfortable space to enjoy a book and maybe have a chat with his wife before going to bed.
For this purpose, we made a custom sofa deep enough for him to sit comfortably. The simple, yet impactful patterned Sunbrella fabric adds texture and extra colors to the room. I used the same color as the accent wall for the wall shelving unit to create depth and proportion without overcrowding the space.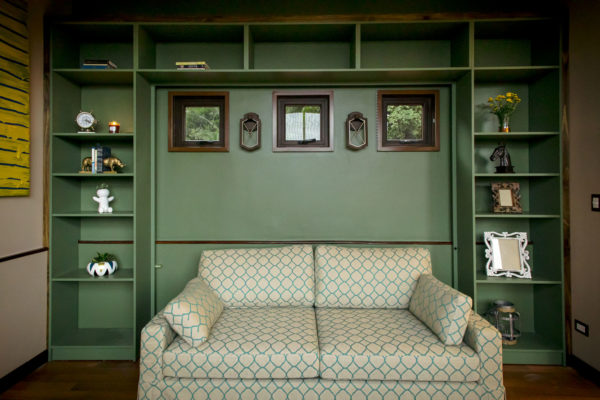 I bought the accessories specifically for the client, with the purpose of elevating his mood and state of mind every day. Whenever I design spaces, I want to help improve my client's life somehow. For me, this is the whole purpose of my work.
A Custom Touch
On the other side of the bedroom, I designed a new custom made 100% imported leather headboard for the bed. It looks amazing, the photo does not do justice to how beautiful it turned out. The high contrast between the deep green wall and the camel leather brings the entire space to life and definitively adds a lot of character.
The details on the leather tufted headboard make all the difference. We brought the leather from the UK specially to build this amazing feature for this room. To build the geometry of the headboard we neatly aligned the nails and perfectly placed the leather buttons on the tufting.
An important note is that I always visit the shops before delivering any custom-made furniture to any of my projects to make sure everything is the right quality for my clients.
Here are a couple of extra images of the accessories installed in this project. I strongly believe accessories are a very important part that completes the design. This is why I always go the extra mile to get the right accessories for my projects.
Photo credits to www.kevinheslinphotography.com
If you liked the ideas you see here, don't hesitate to check out more of my work like Kitchen Renovation Residencial Alhambra